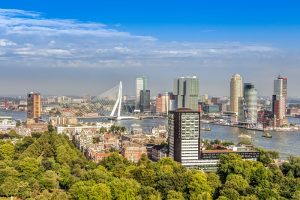 A lot of things to do in Rotterdam
In 2015 Lonely Planet already ranked Rotterdam as one of the top cities in the world. Rotterdam is a young, dynamic global city and continuously renewing itself. The story of the city -the bombardment in World War II and the reconstruction afterwards- and the drive to innovate that locals still use today to shape their city, all make Rotterdam a fascinating place to live in.
Sparkling skyscrapers, one of the largest ports of the world, the Erasmus University, trendy restaurants, food markets, museums and festivals. And consequently a lot of things to do in Rotterdam.
Rotterdam has over 600,000 residents. They are well known about their can-do mentality. With over 170 different nationalities, Rotterdam is a bustling and open city. We often hear from international students that this is one of the most important characteristics of this city that make them feel at home quickly.
What do international students say about Rotterdam?
We asked five international students -who lived here last year- what they like most in the city they have chosen to study in? Below read their reactions.
Rotterdam has the most beautiful combination of old and new buildings. It is modern and yet has its old charm. People are really nice. There are so many things to do and places to go to for students in an international environment. As an international student, it makes you feel safe and welcome. Moreover, the location is very good if you want to travel and explore Europe.
Rotterdam is very artistic with a diverse sense of modern architecture. The idea that half of the population living in the city is made up of young international students gives me a good feeling.
Rotterdam has a terrific outlook, never sleeps and has lots of recreational activities. It is very different from other cities in the Netherlands and it has a good atmoshere for international students.
Rotterdam is very diverse both architecture and people. There's the metropolitan area in the center, the old-school Kralingen and the multicultural parts in the South and West. The Erasmus University is amazing! I really like the campus and how they organize events for students. Cafes on Meent street are great, because the atmosphere is nice and you can easily find a place to work on your laptop or read.
The bicycles on the street are really nice and a very easy mean of transport. The central location of Rotterdam in combination with the logistic network makes it easy visiting the Hague, Amsterdam, Paris, Brussels, etc.. in a reach of hand. It is very international and welcoming to foreign students and it has the perfect size in terms of population; not too big or small.
And we as m2 Student Housing try to make the city as much as attractive to international students by offering student housing in the form of flatshare or house share. Most of our apartments are fully equipped. So if you are looking for rental properties just have a look at this site and find out what suits you best.